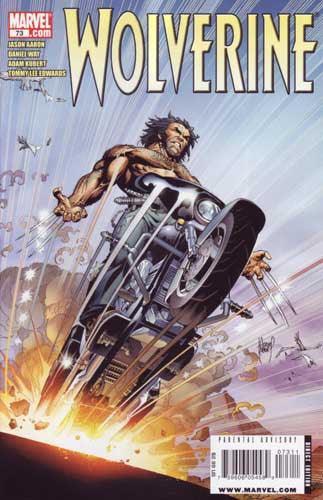 WOLVERINE VOL 2 #73
Original price
$6.00
-
Original price
$6.00
Written by JASON AARON & DANIEL WAY
Penciled by ADAM KUBERT & TOMMY LEE EDWARDS
Covers by ADAM KUBERT & TOMMY LEE EDWARDS Wolverine #73 70th Anniversary Variant Cover by MARKO DJURDJEVIC
TWO STORIES over TWO ISSUES! Each tale begins in WOLVERINE #73 and concludes in #74?as the WOLVERINE comic book makes a change you won't believe? 'A DAY IN THE LIFE' PARTS 1 AND 2-Superstar WOLVERINE artist ADAM KUBERT returns, joined by superstar WOLVERINE writer JASON AARON! Experience a day in the life for America's favorite mutant-a day packed with action, women, villains, costume changes and beer. Ever wonder why Logan keeps himself so busy these days? The answer lies within. 'ONE PERCENTER' PARTS 1 AND 2-Meanwhile, WOLVERINE: ORIGINS writer DANIEL WAY is joined by MARVEL 1985's TOMMY LEE EDWARDS in a prelude to DARK WOLVERINE! Logan wants to get the hell out of New York, and he's in no hurry to get back to San Francisco, either. So he gets on a motorcycle and takes the long way home. But home for Logan isn't in a secret underground headquarters-it's in a fight, with his hands wrapped around the neck of somebody who's got it coming.
32 PGS.(each)/Parental Advisory
Comic Condition
All comics are Near Mint (NM) or higher, unless otherwise stated in the title.
9.2> Near Mint (NM)
9.0 VF-NM
8.0 Very Fine (VF)
7.0 FN-VF
6.0 Fine (FN)
5.0 VG-FN
4.0 Very Good (VG)
3.0 GD-VG
2.0 Good (GD)
1.0 Fair (FR)