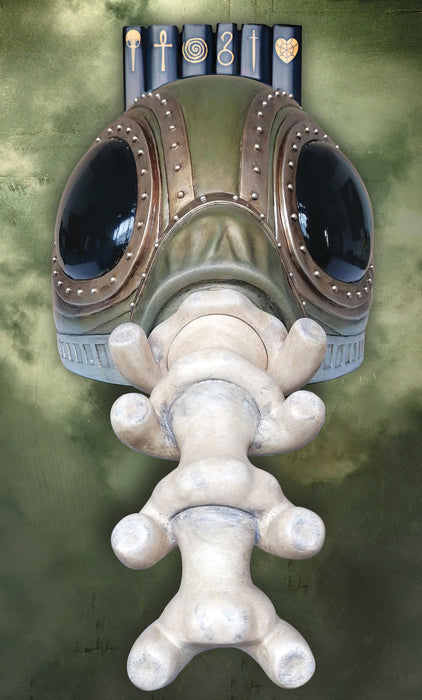 SANDMAN MORPHEUS HELM MASTERPIECE EDITION (DIRECT MARKET EDITION)
Original price
$850.00
-
Original price
$850.00
(W) Neil Gaiman (A) Various
New York Times bestselling author Neil Gaiman's comics masterpiece, The Sandman, is regarded as one of the greatest graphic novels of all time. It has won numerous literary awards, been adapted into an Audible audio drama, and most recently premiered as a highly acclaimed Netflix live-action show. This highly imaginative and thought-provoking series has endeared itself to fantasy and comics fans worldwide.
Now you can own a piece of the Dreaming in the waking world with this Masterpiece Edition book set, comprising six exclusive leather-bound, foil-embossed hardcovers and a custom sculpted book stand resembling Morpheus's helm.
These six volumes collect stories from the entire Sandman saga—including The Sandman #1-75, the comics and prose editions of The Sandman: The Dream Hunters, The Sandman: Endless Nights, and The Sandman: Overture. They are designed to fit perfectly in the intricately carved book stand that features a highly detailed bone snout and riveted exterior.
Also included is a set of art prints from legendary illustrator Michael Wm. Kaluta and an original piece of epistolary fiction from the world of The Sandman--written by Neil Gaiman himself, and exclusive to this set! The Masterpiece Edition book set and stand is the perfect way to display these treasured DC volumes and is the ultimate gift for fans of The Sandman.
Comic Condition
All comics are Near Mint (NM) or higher, unless otherwise stated in the title.
9.2> Near Mint (NM)
9.0 VF-NM
8.0 Very Fine (VF)
7.0 FN-VF
6.0 Fine (FN)
5.0 VG-FN
4.0 Very Good (VG)
3.0 GD-VG
2.0 Good (GD)
1.0 Fair (FR)