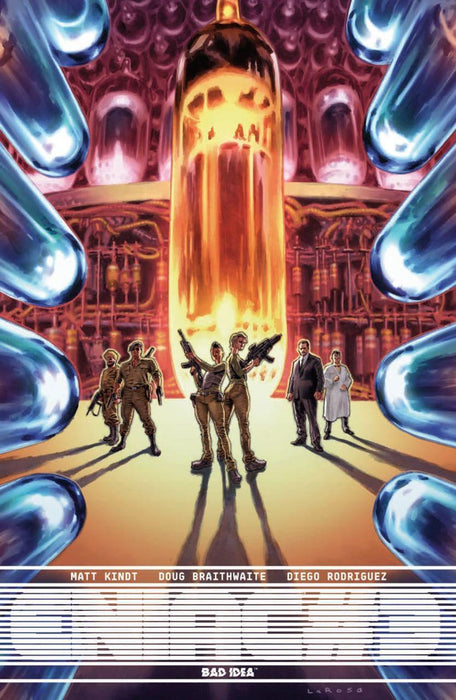 ENIAC #3
Original price
$10.00
-
Original price
$10.00
(LIMIT ONE PER CUSTOMER)
Seventy-seven years ago, the United States unlocked the key to defeating the Axis powers, but, in their desperation to end the war, accidentally created a far more powerful threat: ENIAC (Electronic Numerical Integrator and Computer). Designed to be a cutting-edge breakthrough in supercomputing that could deliver a decisive victory to the Allies, ENIAC did just that...by ordering the bombing Nagasaki without human consent or approval. A fully autonomous A.I free from the bounds of programming or morality, ENIAC spent the decades since manipulating global superpowers from the shadows, secretly shaping everything we thought we knew about the history of the geopolitical order. And, throughout it all, one classified question has plagued presidents and prime ministers, generals and spymasters alike: "What is ENIAC planning next?"
Now, after years of silence, ENIAC has re-emerged with a 72-hour countdown until it unleashes every weapon in Earth's atomic arsenal. Its motives? Unknowable to humankind. Its endgame? Destruction on an unthinkable scale. As ENIAC's clock rockets toward zero, it's down to two covert operatives to infiltrate a Russian black site and free the one man alive who knows how to kill the machine...before it erases mankind, once and for all.
Comic Condition
All comics are Near Mint (NM) or higher, unless otherwise stated in the title.
9.2> Near Mint (NM)
9.0 VF-NM
8.0 Very Fine (VF)
7.0 FN-VF
6.0 Fine (FN)
5.0 VG-FN
4.0 Very Good (VG)
3.0 GD-VG
2.0 Good (GD)
1.0 Fair (FR)